In conversation, she spoke just like a baroness
Blech. I am gross and sick and stuffed-up. I honestly wanted to do a proper entry, but . . . no. SO! Here are some links that always make me laugh:
Free to a Good Home
. A guy on craigslist trying to get rid of a cat. No matter how many times I read this, I always always laugh out loud, so be warned.
George Lucas in Love
. Think
Shakespeare in Love
, only with George Lucas instead. Video and sound.
How to Write Screenplays. Badly
. Just plain hilarious, and they update fairly regularly.
Wordplay
. Ever heard of the screenwriting team Ted Elliot & Terry Rossio? No? How about those little-seen art house flicks
Aladdin
,
Shrek
and
Pirates of the Carribean
? This is their site.
Mows
, an adorable and eerily accurate webcomic about 3 cats.
White Ninja Comics
. See, there's this white ninja, and he . . . Well, just read it. Also, he looks just like my little brother. I'm serious.
"That's cuz HOCKEY RULES!"
Uh . . . what else . . . right now I really like the songs "Hips Don't Lie" (Shakira ft. Wycleaf Jean), "Black Horse & Cherry Tree" (KT Tunstall), "Woman King" (Iron & Wine), and "Zephyr Song" (the Red Hot Chili Peppers).
OK, fine, here's a cute picture of my cat Marlowe.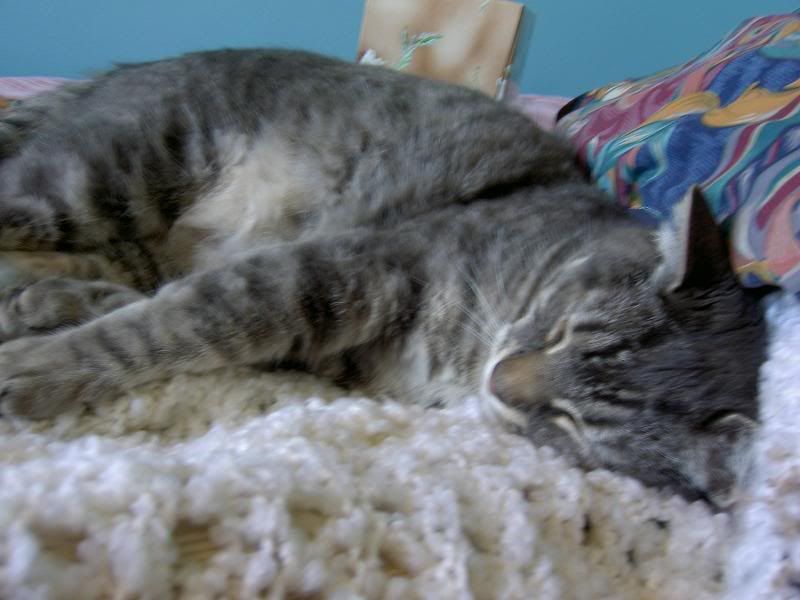 Awww.


Edited to add: check out this here
video
of my friends! How to describe it? Well . . . there's these four guys, and they lipsync to "Tunak Tunak Tun". There's wigs, and a car, and a gap in continuity (how long ago did you guys shoot this?), and awesome editing. According to Stefan, it's part of a larger whole - the near-mythic
Aufbau
.