Opening doors and pulling some strings
I'm making a pair of socks for my mom out of the infamous
Austermann Step
(colourway 01), the sock yarn with aloe vera and jojoba oil. And yes, you can definitely feel it. My hands just feel as smooth as buttah when I work with this. I don't know yet how it'll hold up during washing but it's just deelish right now. Here's the first one in all its soft stripey glory: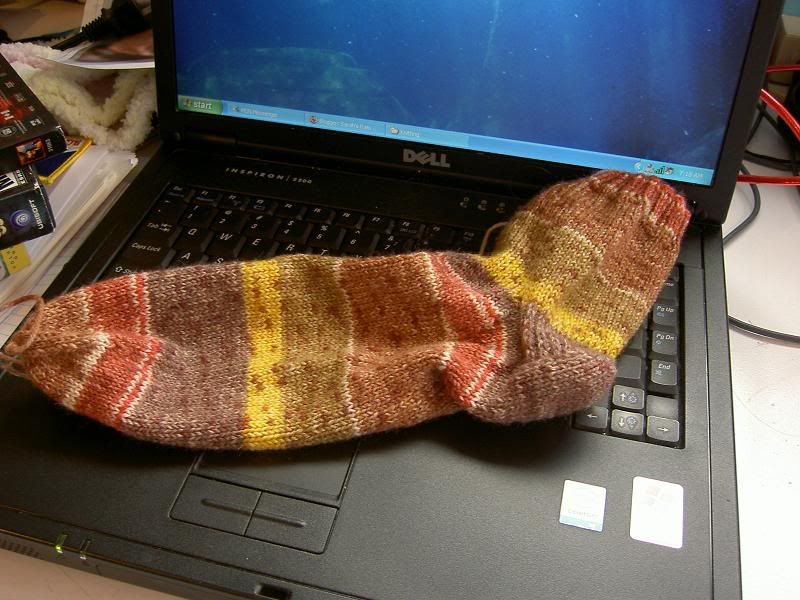 I knit it on my 2.75 mm dpns, but I stopped after I finished the first sock and started the heart-breaking
Cobweb Doily
. Well, the jig is up. It's time to face facts, and finish this pair of socks. Note: this is not second sock syndrome. I have never had second sock syndrome, except for the first time I knit socks, out of plain blue Patons Kroy. I learned my lesson - I don't knit plain fingering-weight socks anymore. Problem solved.
Wait, what was I talking about again? Oh yeah, needing the needles out of the doily.
Because it's not a knitting blog without a cat, I had a supervisor in case I screwed up. Excuse the blur. That's Nico, our kitten.
Here it is, in all its puffy glory.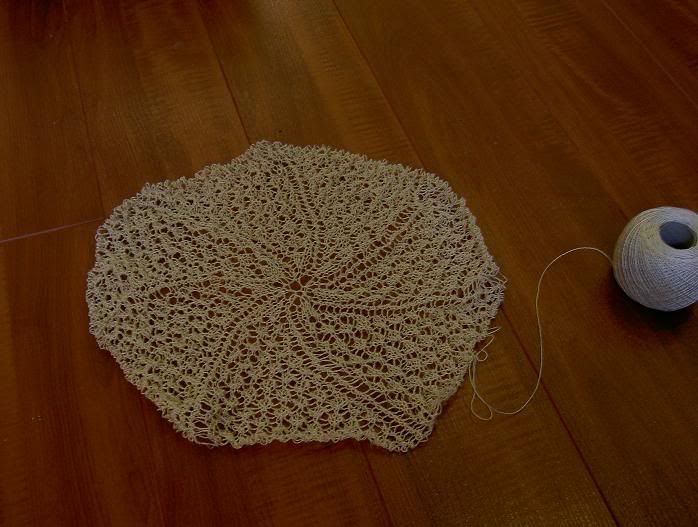 After performing the (sob) extraction. Look at it! It coulda been a contender. Even with the mistakes and the unevenness (blocking blocking blocking, that's my mantra), so adorable!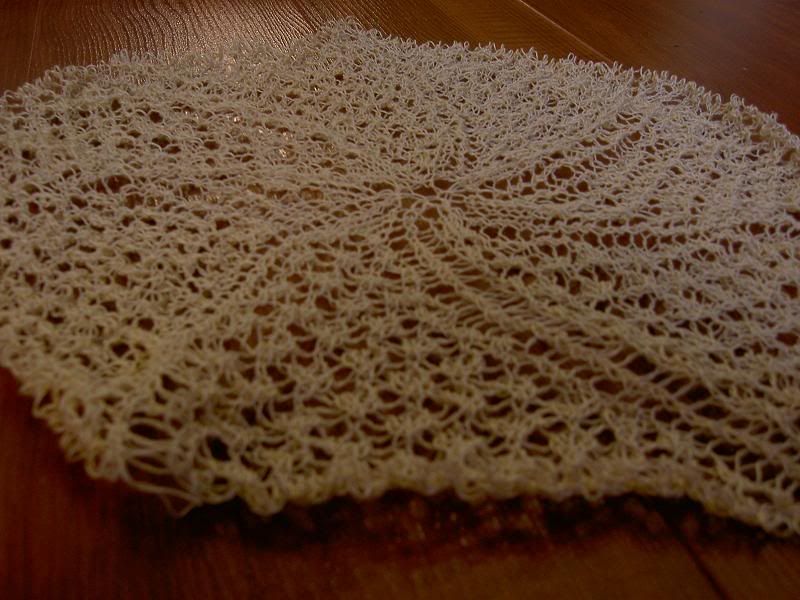 The obligatory low-angle artsy shot.
So, it's off to make another sock. Not that I'm complaining. But I still hear the siren call of lace. So much so that I feel the need to make another doily. Yes, a DOILY. I know I've never been hip, but still. My desire to make doilies is so strong it's a little embarassing. But can I help it if they're really pretty? And fun to make? And apparently there's lots of old free patterns online? I mean sheesh, everybody loves vintage patterns, but I would like to know just what the girls with busts bigger than 36" MADE in olden days. Perhaps they just had to go cardigan-less and be mocked. My point is, doilies don't care about your gauge. They love you no matter what size you need.
So I was muchly delighted when I discovered the caches of doilies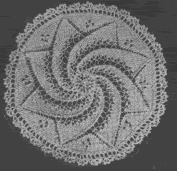 at both
Yarn Over
and
Knitting Pattern Central
. Even more so when I discovered that Yarn Over has a section dedicated to German patterns from the 1920s. The history geek in me let out a girlish squeal at this discovery. Germany! The 1920s! Inflation! Appeasement! Weimar!
Doilies!
The metaphor practically writes itself. I am particularly fond of
Laura
(seen at right). Swirly.
For something more modern, how are those ballerina slippers felting?
Apparently the answer to that is "Not well." But I've made felted objects before that ended up thicker than the fabric is here. I can keep felting. I'm just disappointed because this is so unlike all the other felted projects I've made with Paton's Classic and my parents' washing machine. I think it's the garter stitch that's gumming up the works. Better felted too little than too much, I suppose.