Thuja thockth
As part of my ongoing attempt to document all of my FOs, I present my Thujas, only a few weeks after they were finished!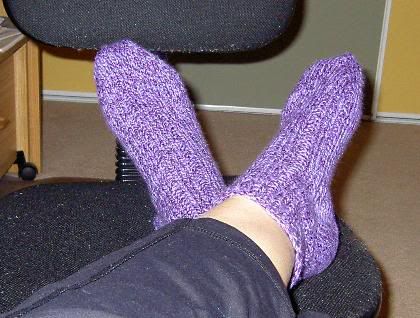 Pattern:
Thuja socks
, by Bobby Ziegler, in
Knitty Winter 05
Yarn: Cascade Quatro, colour number 9437 (purple tweed). 100% Peruvian highland wool.
Yardage: Less than one hank (220 yards).
Yarn Source: bought from
Wool N' Things
, as part of my
birthday present
from my parents.
Needles: Aero 4mm dpns.
Obviously I used a different yarn than was recommended. I was quite relieved when I found out you could use any worsted-weight for this pattern. I really liked this yarn - it was actually four strands, each a different shade of purple. I would use it again as it's soft and comfy, and would probably give a great subtlely-mottled appearance to a pair of Fuzzy feet. It was bought as part of my birthday present from my parents - thanks, Mom and Dad!
I'm glad I made the cuffs 2" shorter than in the pattern. I generally do this because I am just plain impatient and overeager to get to the interesting part (another reason I have to learn how to do toe-up socks). But with my long (women's US size 10) feet, I'm not sure I could have gotten the full 6" cuffs without running out of yarn in the toes.
I am planning on just using these as house slippers, and have been great so far. The only issue I have is how they have stretched out. With my other handknit socks I've noticed this too, but after a run through the wash they're snug as can be again. Obviously I can't do that with these, but it's not like they're falling down or anything. Perhaps next time I would move down to US 5 needles, since they are only .25 mm smaller and would be likely to keep a snug cuff.
In other making news:
Standard lunch since I've been on this new plan. Whole wheat bread, mayo-like substance, cheddar cheese and deli turkey, with nectarine as a side. Double plus yummy. Though today for lunch I had mussels, cheese and crackers while reading
Folk Socks
. Felt quite the bohemian.
Not part of the plan:
I have dinner at my aunt and uncle's every week, and felt like I should bring at least something. The ubiquitous, never-fail
Neiman Marcus recipe
. Halve it, leave out the Hershey bar, make the cookies reasonably small and you get
49
48
47
a lot of cookies.
(And please to excuse the blurry food photos. The ones with flash looked hideously unappetizing.)