Chillax
I realized shortly after that last post that in quite some time, I had written only two pieces, both of which were entitled with only an onomatopoeiac growl. So let's all chillax, eh?
I realized that I have been very bad about posting my FOs. To the casual observer I would appear to be someone who constantly spouts off her mouth about knitting, yet never actually
does
anything. This is true. However, there have been a few exceptions to the rule.
It seems that I am at my most efficient when I am making an item for someone else. I think this is because I have guidelines: what the person likes and/or wants, and a reasonable deadline. (Please note: these guidelines do not make me efficient in schoolwork.) When it's for me, I see all the mistakes. I can't make any decisions. I feel free to drop it whenever I get bored. Exhibit numero uno:
Tubey
. Oh, Tubey. You're adorable! And affordable (I subbed Paton's Decor, which was on sale, so $36 before tax)! How can I resist? This was a sweater pattern so unique and cute I could see myself actually finishing it!
Sidenote: I have only tried to make a sweater twice before. One was the go-everywhere cardigan from
S'n'B the first
. Lesson learned: there is a strange and mysterious force called Gauge, which decrees that sport-weight wool and worsted-weight wool-ribbon blends are not acutally equivalent. The only thing I liked about that was that I had the brilliant idea of casting on both fronts and the back at the same time as one piece, then dividing at the armholes. I am proud that I have proof that I thought of that myself before reading it in
SNBN
. I haven't yet frogged the astonishing amount I got done. Here's the real kicker: it's so big, it wraps completely around my abdomen.
Twice
. Even though I probably cast on for the wrong size. Which brings me to the second sweater.
It was the Flower Power sweater from SNBN. I bought a cheap wool-acrylic blend from my LYS. Tomato-red. Not my colour. Being lazy as well as cheap, I worked my gauge swatch and discovered I was going to work this at a bigger gauge. No worries, it's SNBN after all. I reworked the entire pattern, following the instructions at the front of the book. Somewhere along the line I ignored the whole (invaluable!) part about fit and ease. As in:
your bra size is not your bust size
.
You must act
ually measure yourself
. I managed to fool myself all the way through a front, back, and sleeve for that one.
Anyway, back to Tubey. I should have read the pattern first. I'll let the photo speak for itself:

Yeah. FIFTY-FIVE INCHES of St st (I didn't even stretch it out), and I'm STILL not done the shrug part. The stitch count stays exactly the same the whole time, too. At approximately 6 rows to the inch, with 70 stitches in each row, that's around twenty-three thousand, one hundred stitches already. But I know eventually I'll finish it. Could
you
frog 55" of hard-fought St st?
Then there's the stuff I have done, but haven't shown. There's my first pair of socks I did, which were made with OnLine Sierra Effekt yarn that I bought from my
lys back home
.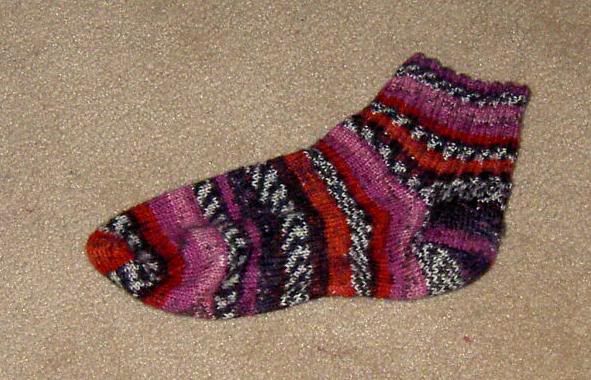 I made them from
this
simple Patons pattern, but I made a few significant changes:
Kroy? Gauge? Pah!
Shorter legs (only 4").
Ribbing all the way to the heel flap - just one rnd of St st between.
I like this yarn's patterning, but I didn't like the splotches of black that would show up throughout. I have another colourway, which does the same thing. Also, I think sock legs need to be longer than you think at first. I wouldn't do the complete leg ribbing next time. It stretches out with wear and your socks are falling down by the end of the day. I think this pattern will become my standard plain jane sock pattern though; they fit pretty well on the foot's width and length.
As for my
Olympic socks
?
They are GORGEOUS. I LOVE THEM.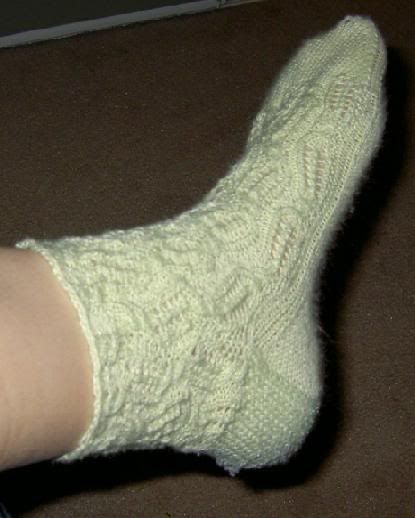 They fit really, really well. They have the perfect amount of negative ease. When I first wore them, they were so tight they left marks on my instep, like the pillow marks you get on your face. In a good way. The panels of lace and cables are separated by purl stitches, so it's ribbed and meant to expand.
But . . . the bad.
The toe on these socks is finished by cutting the yarn and drawing it through the stitches. No Kitchener. At first I was pleased by this, but not anymore. It just doesn't hold up as well, and it doesn't look as good. It allows the stitches to loosen, so that one sock has a visible hole at the end were the stitches were drawn together, and the other's end has become unwoven. If I was ever to knit this pattern again (and I probably won't - no more spice in it) I would work a few rounds of St st between the panels and the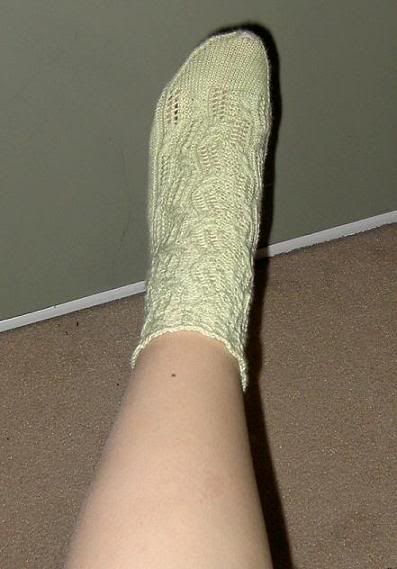 beginning of the toe decreases, then Kitchener the toe.
Speaking of changes to the pattern, the people at XRX must be on crack. They tell you, after the heel gusset, to work two repeats of the pattern, which will equal 7.5" from the heel. Lies! I had to do three repeats to get 7.5". There is no way changes in gauge could do that much. Also, you may note that the cable and lace pattern original photo of the pattern and in my version differs slightly. The only way I can possibly account for this is that they either printed the chart backwards, or they knit charts reading from left to right, which is ... odd. As well, when you begin the pattern on the instep you have to start halfway through the chart in order to maintain the continuity of the pattern, which isn't explained.
As for yarn - something is going wrong with my sock heels. It's happened with both pairs of my socks. It's a kind of dirty-looking pilling on the heel flaps. Can anyone help a sistah out with this? They're both 75% superwash wool, 25% nylon, and the Tipsy Knitters had the Lang Jawoll reinforcement thread in the heel as well.
But anyway! I finished the 2nd sock on the 26th, with the help of the
Disney Treasures: Behind the Scenes at the Walt Disney Studio
DVD I got out of the library. These Disney Treasures DVDs are really great: my mom and dad gave me the
Rarities
for Christmas, and I love it. I could just shut off my brain and look it all the gorgeous animation.
This makes me a Knitting Olympics Gold Medallist!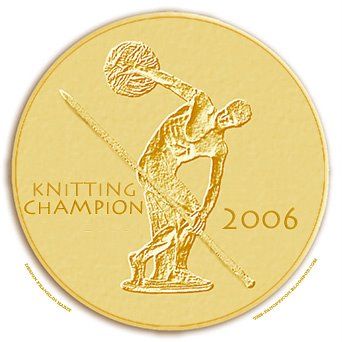 Oh, and just in case you are curious: this is exactly how much Tipsy Knitter sock you can get out of one skein of Lang Jawoll.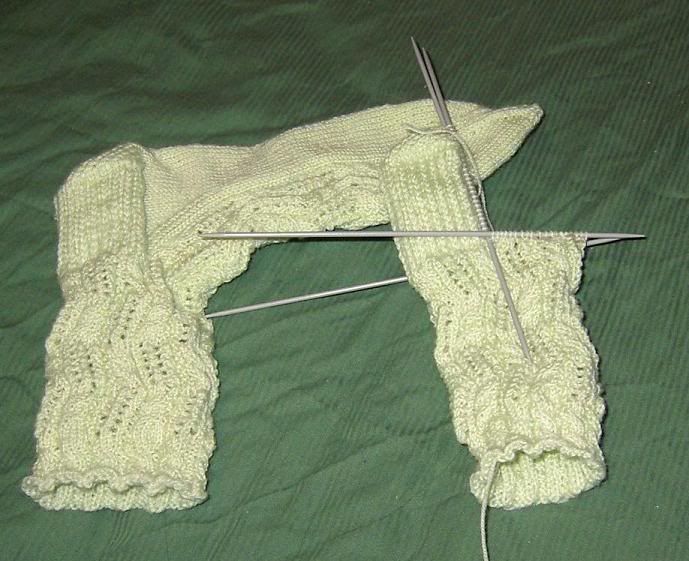 I have tons left over from the pink socks too. The wool cartels are fooling us into think we need +300 yds for socks, I think. And this from a girl with big feet.
"But surely," you cry out, "you've knit something other than socks lately!" "You," I reply, "are too invested in my crafting." But seriously, I have, for the Craftster stash swap. (Stargirl, stop reading now if you want to be surprised.)
For my clothing item: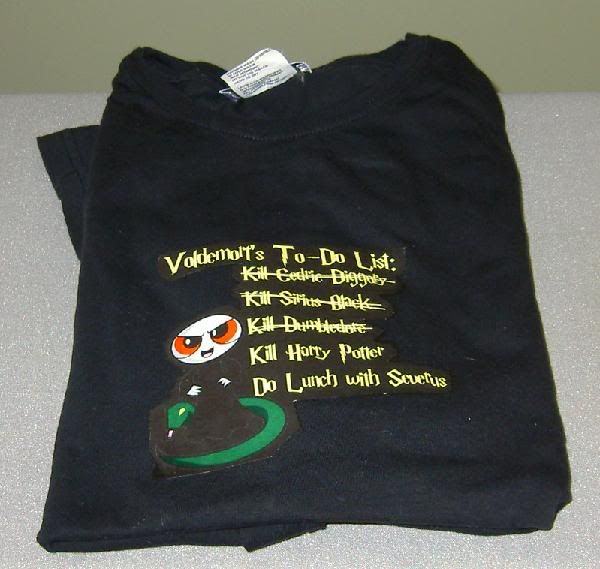 Details: size L black Fairweather t-shirt, Avery dark t-shirt transfer.
I love this design
so hard.
(Of course I do;
ohmystars
put it together.) I've used it a lot. It was my entry for
Melissa
's Yankee swap Christmas party gift exchange. Downside: I've used it so many times I can't see using it on an item for me, because I would be all, "But everyone already
has
that shirt!"
Useful item: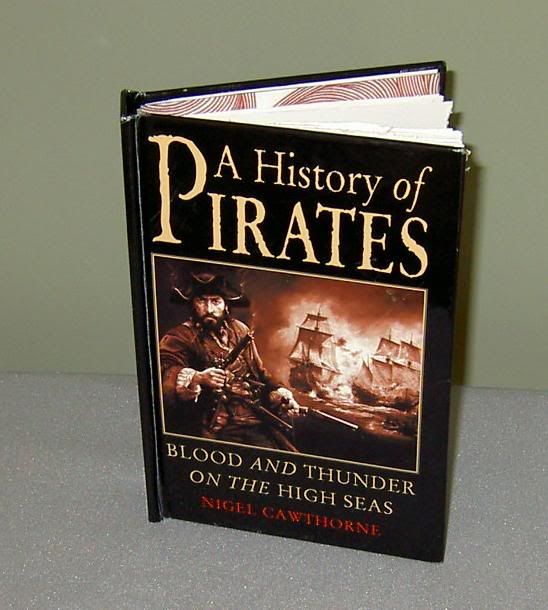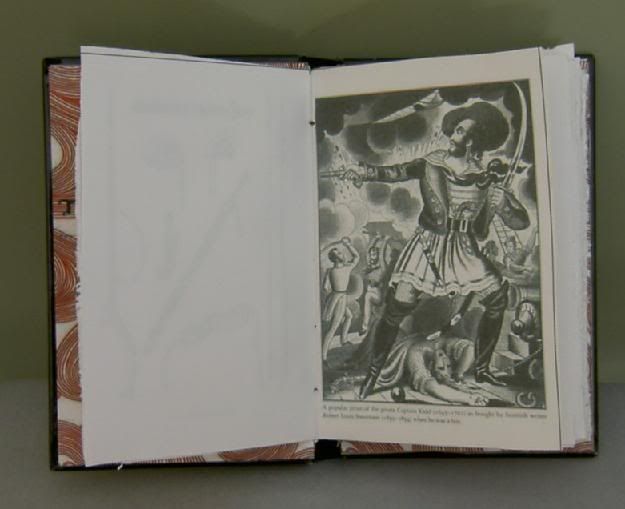 I think this is the best notebook I've ever made. I took the hardcover book (which sucked to a shocking degree, since it contained 2 of my favourite things: pirates and history. Sadly, grammatical errors can trump most of the things I love) and cut out the pages. I saved the illustrations. I scanned them in and then printed them out on plain old 8.5 x 11" paper. Along with plenty of sheets of plain 8.5 x 11" paper, I cut them to size, then bound them with the coptic stitch and Berocco Suede "yarn", which I use to bind all my books. For the front and back covers, I used two sheets of cardboard cut to size. I then glued the cardboard to the inside of the book. When they were dry, I glued the flyleafs in. They're just print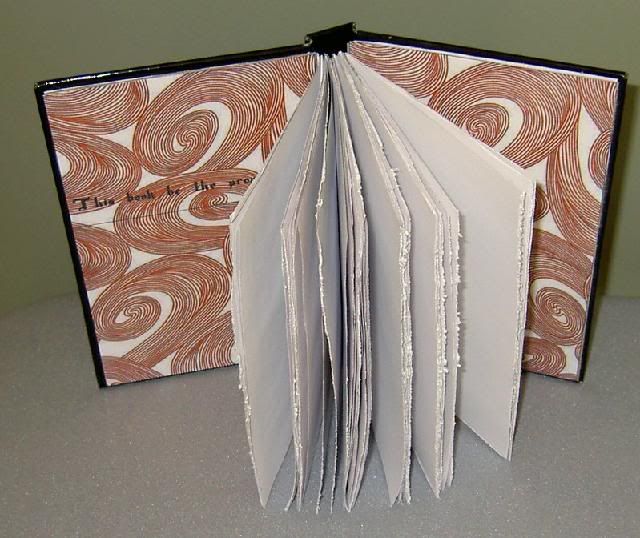 ed on cardstock. For all my flyleafs, I grab the images of cool fabric from
Reprodepot
, then resize them in MS Paint. Yup, I'm cutting edge. The front flyleaf says: "This book be the property of: _______________" The pattern there is
Water Swirl - cherry
, incidentally.
And my favourite, the fun craft:
Knitty's
Kate
, which I call Meg, for obvious reasons. Paton's Classic Merino in black, aran and bright red. I felted her slightly to both hide my not-so-good seaming, and to make her more secure.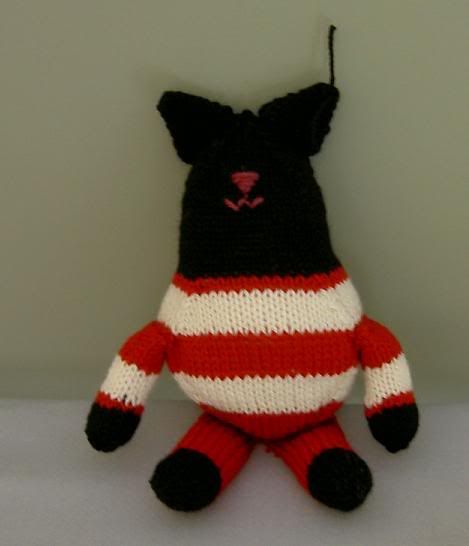 Pre-felting, and pre-eyeballs.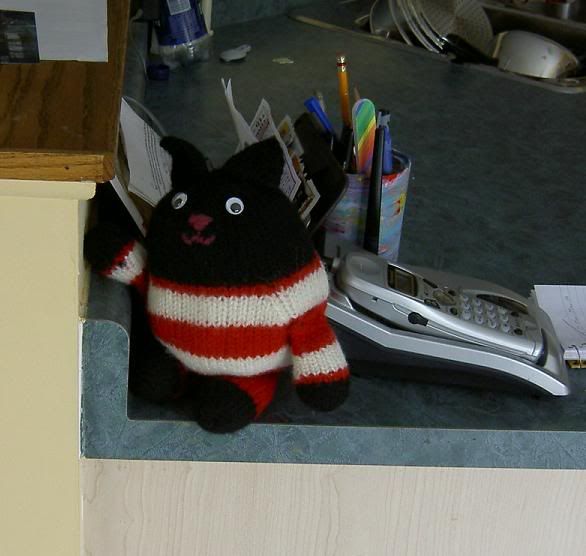 "So . . . do you come here often?"