There aren't many, or any, words that rhyme with Oscar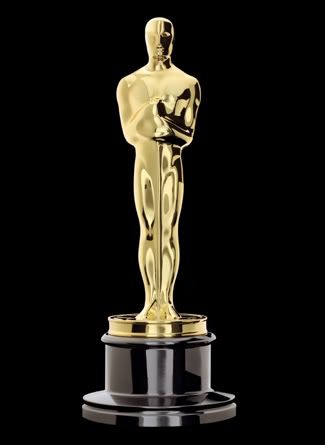 Renee Zellweger, presenting Editing, says that some of the most important parts of your life have won Oscars. Okay. Hokey, but okay. But then the examples are the car chase in
Bullitt
, the fights in
Rocky
. . . I have an unhealthy love for
Bullitt
, but watching it was
not
the most important part of my life. It wouldn't crack the top 100.
Oh yeah,
Bourne
wins again. Roderick Jaynes, nominated for
No Country
? Yeah, that's Joel & Ethan Coen. I wonder whose picture that was that they showed for his nomination. Man, do they do everything? "Cathering by Joel & Ethan Coen." "Transportation by Joel & Ethan Coen." "Assistant to the Directors: Joel & Ethan Coen."
The honorary Oscar recipient has had an amazing career. Robert F. Boyle. He designed productions, or is it production-designed, for Hitchcock, yo! That's cred. I hope I look so good at 98.
Please, please, please let
Wanted
be good.
Macbeth
can't get you through everything, my good lad.
Penelope Cruz's dress is great, except for the beaded apron/shawl thing around her waist. Know when to say when. She's presenting Best Foreign Feature.
The Counterfeiter
wins. I'd said
12
. I'm 3 for 7, dammit!
Patrick Dempsey is nominated as "talented and handsome." A, we know. B, it's a little reducing, especially when he's introducing his own film. I
think
that isn't Amy Adams dancing, but they aren't cutting close enough to tell.
Now that I've seen all the songs, the one from
Once
is undoubtedly the best, but "That's How You Know" works so well in its own context.
Nope, not Amy Adams. That's kinda disappointing.
John Travolta dances on as the dancers leave the stage. I might like that better if I liked him better. He's presenting Best Song. Menken's gotta win, come on! Nope,
Once
wins. It
is
a great song. Wow, they weren't kidding when they said their relationship borders on the criminal. She didn't look as young as she does here in the trailers.
Aww, the poor girl didn't get to say her speech. They started playing, she stopped talking, they stopped playing but she was already walking away.
They're keeping the ad breaks relatively short, but frequent. I still don't think they'll finish at 11:30 as the guide on my TV says. It's 10:54 and they've 8 more awards to give out.
Oh my, they've brought Marketa Irglova out to let her say her thanks. Awwwwww.