Oscar blogathon, post 2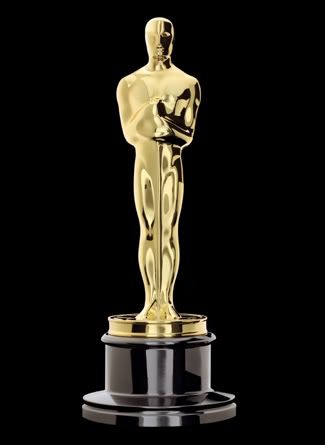 Seacrest is talking about eavesdropping on Carell in the grocery store. He says how inappropriate it would have been for him to approach him at the time and say he was eavesdropping. He tells this story on
international TV
. I don't even have to try to make the jokes here.
Amy Adams' dress looks a lot like her dress at the end of Enchanted, except it's a sort of very dark green-black rather than purple, and it's a lot more swirly around the calves. I normally hate that kind of bodice, where there's a dip between the breasts, but it still looks great on her.
John Travolta's hair looks like he bought it off a 2 AM hair commercial and he sprayed it on. Ken dolls have more realistic hair.
I'm tempted to say that Miley Cyrus's dress's colour (cherry red) is too old for her. Yes, it sounds very Grandmere from
The Princess Diaries
, but it's kinda true. The cut is perfect -
James McAvoy and his lovely wife are on. Me can't brain now -
Okay, it's off him now. Gosh, he's pretty. Seacrest is talking to Amy Adams about her
Enchanted
doll, same as he did for Patrick Dempsey. What, were they short of "Boy, you were really good in your movie. Who are you wearing? You sure were good." And Seacrest's correspondent just said, "It's like the less you're prepared, the better." You can't make this shit up.
Jessica Alba always makes best-dressed lists. Last year they talked more about her than some of the actual winners, even though she hadn't actually been in anything for a while, nor did she have anything coming up soon. She
was
well-dressed: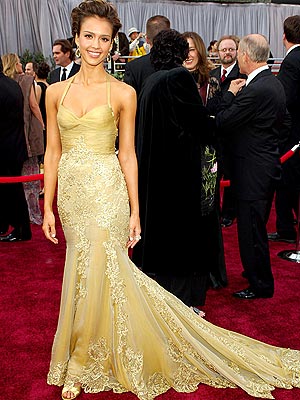 But it made me wonder if 10 years from now they'll just have models walking the red carpet so they don't have to talk about the boring ole movies all the time. Anyway, despite having a lovely pregnancy glow, Alba's dress this year just looks marred. It's this deep copper/bronze strapless empire waist, but it's got this big feathery boa just glued onto the bust.
Someone please get Jennifer Garner a sandwich.